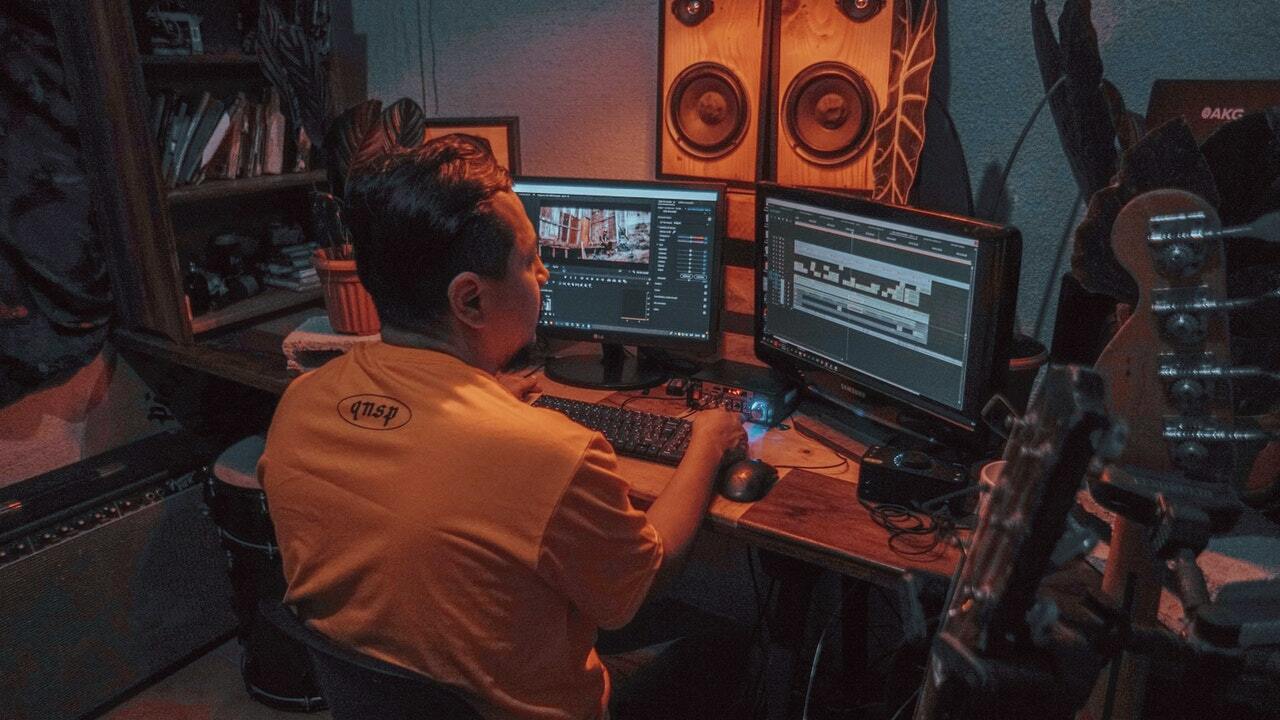 Published On
March 10, 2022
What Happens During Post-Production and Video Editing
A well-produced movie isn't created in one go: it relies on many processes that happen after filming. This is the art of post-production, or taking raw footage and editing it together. It includes adding visual effects, sound, and color grading a movie to create a compelling, cohesive film. Here, we'll outline the entire post-production process, including the tools you'll need to get started.
Steps of a Post-Production Process
The steps involved in post-production may vary depending on the specifics of your project. You can use this guide:
1. Editing the Content
First, the raw footage is edited into a cohesive whole. This may involve re-shooting scenes, adding or removing content, or simply smoothing out the story flow. Visual effects can be added to fill in screen time and smooth transitions between shots during this process. Also, audio effects such as reverb or echo can be added during this step.
2. Adding Music and Sound Effects
Once the video has been edited, background music and sound effects can be added. Background music may come from a library of royalty-free music or a composer. Sound effects are added for actions like door slamming, gunshots, or dialogue.
3. Color Grading
Color grading refers to your movie's color correction and grading to make it more cohesive and visually appealing. This may be done in special software or through timing in Final Cut Pro. The goal is to make the colors, saturation, brightness, and contrast work together to create a consistent aesthetic.
4. Adding Visual Effects
Visual effects can help improve a movie's quality and realism through things like adding new images or objects. For example, a 2D effect could include adding a digital effect to a background image or adding a new, non-existent character. 3D effects can add camera movement, add airplanes or helicopters soaring across the skies, or even add more depth to objects in a scene.
5. Finishing Touches
Once the audio and visual effects are added, the movie may undergo a final polish, including screening the film to test it and ensuring every audio and visual aspect is working as intended. It may be given a final re-edit to include a laugh track if it's a comedy.
6. Final Quality Control
It doesn't matter how good your movie looks once you've finished a day of shooting. You're bound to find mistakes that you want to fix while editing. You may want to add extra effects or change the order of events. This step is crucial: editing your movie even after it's gone through post-production is the last time you get to change the story or look of your film.
7. Publishing and Distribution
Once your video has been completed, it's ready to be published and distributed. This means uploading the video to your Vimeo or YouTube account, sharing it on social media, or adding it to an online database for people to view.
Conclusion
Post-production is the final stage in making a great movie. By the time you get to this step, you've already built a strong foundation for your story. How you strengthen it through editing, sound effects, music, and visual effects is up to you, but with the right tools, you can make your movie come together without a hitch.
Barking Squirrel Media is a cinematic storytelling video production house, harnessing the power of commercial film to connect brands with their audiences in Cincinnati and nationwide. We create commercial films that demonstrate how businesses and organizations make a positive difference in the world and real people's lives. Our video production approach includes strategy and discovery, script and storyboard, a full production team, and cutting-edge cinematic technology. If you're looking for film production services in Cincinnati, we've got you covered. Get in touch with us today and let us know how we can help!