Corporate Video Production: Understanding the Process
This article will teach what's involved in creating a corporate video.  Video production can be broken into four processes: discovery, preproduction, production & post production. It all begins with discovery. 
Discovery
Pricing for preproduction varies based upon the needs of a client. A skilled filmmaker wants to know the needs, goals, problems and audience of a client. These days, most discovery sessions are done through zoom conversations with one or more leaders in your organization. Additionally a producer seeks to learn who you are, what you do and how you make a difference in the industry, people's lives, the community and the world.
In order to tell your company's story, we need to interview a few or many people in your organization. This depends upon the size of your organization and the breadth of your goals and story. Once this process is complete, Barking Squirrel Media will often provide you with our written understanding of your story through a brand report.
Preproduction stage of Corporate Video Production

Concept & Script for Video Production
The next phase is to determine the type of video that will accomplish your goals. In some cases, especially in short commercial spots, we may use a concept to explain who you are and the value you bring to the market. Concepts usually compare your service or product to something else through a visual metaphor.
In commercial films, a script is needed. A script is valuable because it concisely and precisely communicates your brand and your story. In some cases, it may be important to the you, the client, to have your own people talk about your product or services. This is called a testimonial video. Here we will work with you to create general script of the talking points you want each person to discuss for an interview on camera. In other cases, you may want a combination of script and testimonials to tell your story. Regardless of the choice, a script is quintessential to a corporate video.
Site Scouting for Video Production
Once the script is complete, video production companies will conduct a site scout. This means we come to your location, take many pictures and determine the most visually compelling places to film your story. In some cases, we may need to find off-site locations for filming. And in other situations, we may have to find a studio to film parts or all of your story.
Usually Barking Squirrel Media does two different site scouts. The first one helps us visually understand the optimum places in which to film and whether or not we need to look for additional filming locations. The second site scouting takes place after the script has been completed. At this site scout, the director and DP (director of photography) will finalized the exact camera angles & camera movements required, the equipment and lighting needed and the space arrangement that needs to be done to make your video emotionally compelling and strategically effective.
Storyboarding for Video Production
Following the second site scouting, we use the pictures we took, along-side each sentence of the script, to show you what the film will look like before we film it. This is important so that both of us, you the client and we the film production company, are on the same page.  Storyboarding ensures that you will get the video that you want.
Filming Schedules for Video Production
Production companies will create a shot list that details every shot that will be filmed to make your corporate video. We take that shot list and create a film schedule. This lets you and our team know when each aspect of the video will be filmed and it keeps everyone on a tight schedule. This will help you the client get your own people scheduled for each phase of the filming, minimizing any frustration in the process.
Production: The Filming Stage of Corporate Video Production
Mini-documentary Crew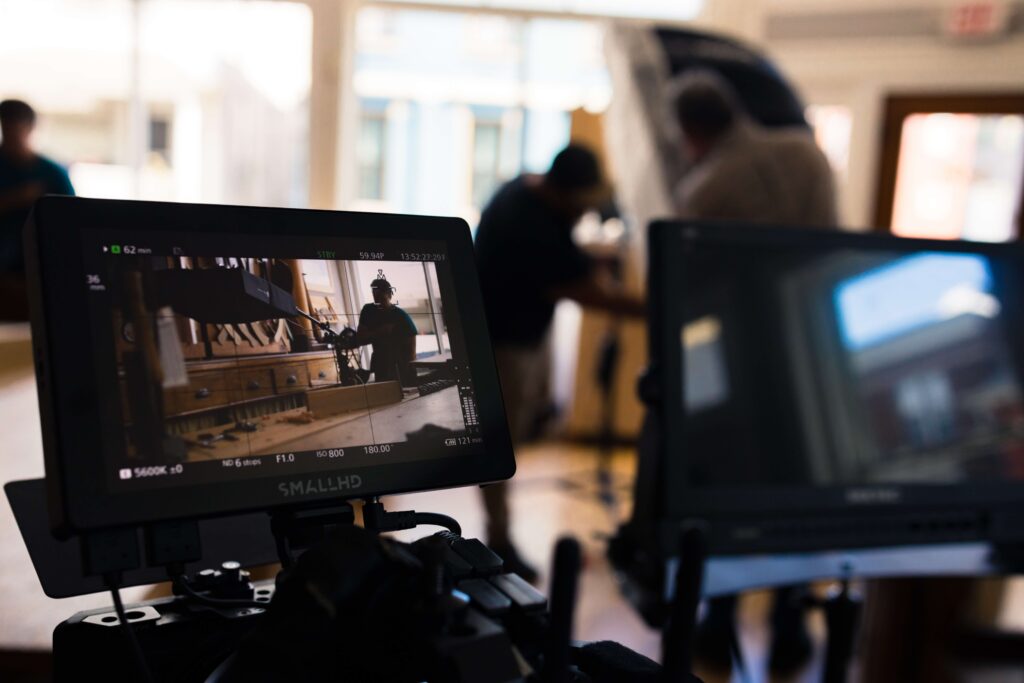 Barking Squirrel Media's mini-documentary crew consist of a director, a director of photography, a grip and a gaffer/audio. The director is in charge of making sure everyone on the team and the talent chosen (whether your people or professionals), do their jobs correctly for each scene. The director of photography is the person, in this case, who does the filming and chooses the camera angles & movement, oversees the rest of the production team. A gaffer is in charge of setting up the lights and implements the look envisioned by the DP so that everyone and everything looks amazing. Finally, a grip is the person in charge of moving and setting up all equipment and electrical needs.
Sometimes a mini-doc crew can manage the audio with this four person crew, again depending upon the complexity of the shots. For more sophisticated mini-docs, a sound engineer is required. This person will have very high end audio equipment, numerous lav mics and overhead boom mics. A sound engineer will also sync the audio with the camera(s) making the editing process easier.
Studio Production Crew
When a brand video is filmed on set and has more ambitious shots, the crew needs will increase. Some of the added crew will likely include assistant director, camera op #2, art director, hair & make up, additional gaffers and the cost of a studio. Here the price could increase greatly depending upon the scope and needs of the video.
Equipment
Most production companies have a per day charge for all equipment. With Barking Squirrel Media, we film with RED Cinema Cameras and Canon Cinema Cameras with the most sophisticated lighting, camera gimbals, lens and drone technology. There could be scenarios where additional equipment may need to be rented, but this is quite rare with a mini-documentary.
Post Production: The Editing Stage of Corporate Video Production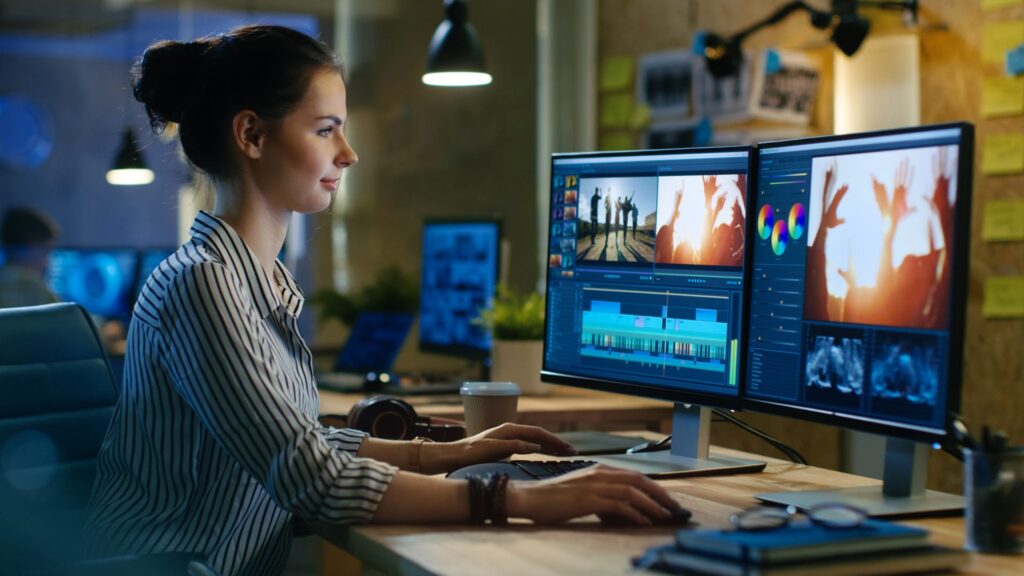 Once the entire video has been filmed, it is the job of an editor to go through all the footage and pull the best shots, both of people speaking on camera and the b-roll filmed. B-roll is the visuals of the action, seeing people doing what the script discusses. The best shots are placed into a stringout sequence in the order of the script. If there is a professional voice-over that delivers the script of the film, the editor will create a scratch audio recording (recorded by the editor). This audio is only for him or her to cut the video to.
Next the editor will create a first draft to send to the director for suggestions and edits that need to be made. Once completed, the director will send the draft to you, the client, for your editorial input. Barking Squirrel Media uses the Vimeo Review Page for this. On this page, you watch the video, click on the screen where you have input and type away. These comments go directly to the editor to make the changes. At Barking Squirrel Media, we allow three different edits before the film is locked. Once locked, the editor will color grade the footage to create the needed mood for the video. A voice over artist will record your script and it will be added to the final video. The audio will also be EQ'd to enrich the sound of these speaking.
Most corporate films require 4-7 days of editing, depending on scope. That said, we have produced some amazing products that only required 3 days of editing and no sophisticated animation. Editing rate can vary wildly depending on the skill of the editor.
Animation
Rates for animation also come down to day rates. To determine the total cost for animation, the producer will provide you with an estimation of the number of days it will take to create the assets and then to animate them into a video.  Some films may require more sophisticated animation of text and objects on screen. Most corporate films don't require more than a day or so of animation.
The Barking Squirrel Media Pledge
We will find a way to scale your video project to your budget needs.  Obviously, when scaling a project downward you will not get as much as before. However, when a company does its first video and has a limited budget, we will do everything in our power to find a way for you to get a quality, engaging video that you can afford. The only thing that we will not sacrifice is quality, for your sake and ours.
Thank you for taking the time to read this article, "What's Involved in Creating a Corporate Video." If there is anyway we can help you with the video production process, Barking Squirrel Media would be honored.
Below is my calendar. Choose a time that works for you and I look forward to chatting.
https://calendly.com/david-barkingsquirrel/video-discovery-meetings