Barking Squirrel Media Wins Prestigious Video Excellence Award!
We won the UpCity prestigious video excellence award! We are honored to announce that the Barking Squirrel Media team has been recognized as one of the top B2B service providers of 2023 in Cincinnati by UpCity & award them the prestigious video award! 
For more than a decade, UpCity's mission has been—and continues to be—to help businesses find B2B service providers they can trust. Each year, UpCity analyzes and scores more than 50,000 service providers based on their UpCity Recommendability Rating and acknowledges the top national and local providers with an UpCity Excellence Award. The results are in, and we won!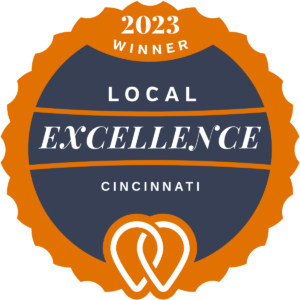 Barking Squirrel Media produces cinematic stories by harnessing the power of commercial film to connect brands with their audiences in Cincinnati and nationwide. We specialize in telling the stories of organizations that are making a positive impact in real people's lives by engaging hearts, changing minds, and inspiring action for our clients.
This recognition has been driven in large part by our 4.9-star review rating on UpCity. Here are a few of the glowing reviews we've received from our incredible customers:
"I have worked on several projects with Barking Squirrel Media and each time my experience was wonderful, seamless, and professional on all levels. They are collaborators, team players with the end product in mind, and attaining it through problem solving, ingenuity, dedication, and a sense of humor, when needed!" —Gina Weathersby, April 2020
"David Bray and his team at Barking Squirrel Media are—to steal a line—the hardest working people in show business. Except, show business isn't the best term for what they do. Barking Squirrel Media is far too authentic for that. There is no veneer, there is no pretending; if they act passionate about your project, it's because they ARE passionate about your project. Guaranteed. I can honestly say I've never worked with a group so committed to over-delivering. Barking Squirrel Media gives you everything you could ever want in a working relationship. They have talent, integrity, passion, a tireless work ethic—and they are an absolute joy to work with. If I could have given BSM six stars, I would have; they are simply that good!" —David Allison, April 2020
"Barking Squirrel did an excellent job of providing highly professional and creative video content that really captures the spirit of the mission of our non-profit organization. This has proven to be an invaluable tool for reaching out to the community to promote awareness of and support for us." —Bob Wilson, April 2020
We will do anything within our power to please our clients. That starts with taking the time and having a process to truly understand who they are, why they do what they do, and how they are making a genuine contribution to their employees, vendors, clients, industry, and the communities in which they reside. Without our loyal and trusting clients, Barking Squirrel would have never received this honor, and we are grateful for their ongoing support. Our team looks forward to growing and strengthening these relationships with new and old clients in the coming year and beyond.
About the UpCity Recommendability Rating
The UpCity Recommendability Rating was developed to determine a service provider's credibility and trustworthiness. This rating helps give UpCity the confidence to recommend a service provider to the more than two million businesses that visit our marketplace, which is powered by over 35,000 verified reviews. Read more about the UpCity Excellence Award here.